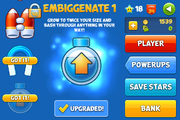 Embiggernate 1 is the first Embiggernate in the Embiggernate series. Along with Magnet 1 and Fireball 1, it is one of the 3 items already unlocked at the start of the game.
Embiggernate grows the character to twice the size. It makes the character invincible, allowing him/her to destroy enemies, Spike Blocks, and blocks. After a while, the character is bounced from regular size to twice the size, later removing the potion's effects for good.
There is a potion in Mega Jump that makes the character half size. Embiggernate 1 is the complete opposite of this item.
Ad blocker interference detected!
Wikia is a free-to-use site that makes money from advertising. We have a modified experience for viewers using ad blockers

Wikia is not accessible if you've made further modifications. Remove the custom ad blocker rule(s) and the page will load as expected.